PERGOLA BIOCLIMATICA / BIOCLIMATIC PERGOLA
Trascrizione del contenuto della pagina
Se il tuo browser non visualizza correttamente la pagina, ti preghiamo di leggere il contenuto della pagina quaggiù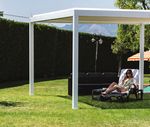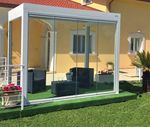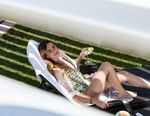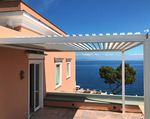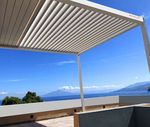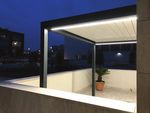 Comfortable, practical, pergola!
Protegge il tuo benessere, anche all'esterno                                      Protect your comfort, even outdoor

                                               Comoda, pratica, pergola!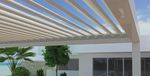 IT   Protegge il tuo benessere,                                                      EN    Protect your comfort,
     anche all'esterno.                                                                    even outdoor.
     Un sistema di copertura da esterni versatile, in grado di soddisfare                 A particularly versatile outdoor pergola system, able to satisfy every
     l'esigenza di relax e protezione: la pergola bioclimatica Overlap                    need for relaxation and protection: the OVERLAP bioclimatic pergola
     consente di gestire e filtrare il passaggio della luce solare più adatto             allows you to manage and filter the most suitable amount of sunlight for
                                                                               -
     lazione naturale. Quando le lamelle sono totalmente chiuse, la pergola               exchange.
     bioclimatica Overlap protegge dalla pioggia, favorendo il deflusso
     dell'acqua lungo i bordi esterni della struttura, garantendo protezione              When the slats are completely closed, the Bioclimatic Pergola protects
     e comfort.                                                                           from rain, promoting the flow of water along the outer edges of the
                                                                                          structure, assuring the utmost protection and comfort.
     La rotazione delle lamelle in alluminio varia da 0° fino a 140°. La movi-
     mentazione può avvenire tramite argano oppure a motore alzionabile a                 The slats rotation ranges from 0° to 140°. They can be moved by means
     pulsante o a distanza, attraverso un radiocomando. Un'unità di control-              of a winch or motor operated by a button or remote control. A control
     lo, capace di gestire fino a 4 motori singolarmente o contemporanea-                 unit, capable of managing up to 4 motors individually or simultaneously,
     mente, è in grado di attivare sensori vento, pioggia e luminosità a salva-           is able to activate wind, rain and brightness sensors to protect the
     guardia della struttura e del comfort.                                               comfort and safeguard the structure.

     La gamma di telai disponibili è di facile impiego nelle più svariate condi-          The range of frames of the Bioclimatic Pergola is easy to use in the most
     zioni di installazione; è possibile infatti realizzare coperture su strutture        varied installation conditions; canopies can be set up on any type of
     esistenti di ogni tipo e materiale, con appoggio a parete oppure struttu-            existing structure in any material: lean to or free-standing insulated
     re isolate autoportanti, che possono raggiungere dimensioni significati-             structures, which can be large-sized through modular configurations.
     ve mediante configurazioni modulari.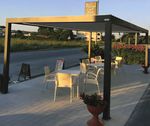 SPECIFICHE TECNICHE / TECHNICAL SPECIFICATIONS
IT   › Lamelle in alluminio verniciato con spessore 1,5 mm               EN   › 1.5 mm thick aluminium painted slats
     › Larghezza lamella : 18 8 ,5 mm                                         › Width: 18 8 .5 mm
     › Larghezza massima singola pergola 4100 mm                              › Maximum width of single pergola: 4100 mm
     › La struttura tubolare del corpo centrale delle lamelle consente        ›
                                                                                  mechanical strength and simplicity of installation.
     ›                                                                        ›
         di contattarci per conoscere la disponibilità)                           contact us for availability)
PROFILI / SLAT CAP PROFILES
                                      LAMELLA/SLAT*                           188,5
                                      interasse/centre
                                      distance 1 7 0 mm

                                                          45,6
                                                                                                                        6,3

COMPENSATORE                  124,4                                                       CARTELLINA
                                                                 35,3   ASTA DI
JOINT                                                                                     DI COPERTURA

                                                    9,5
                                                                        MOVIMENTAZIONE    COVERING BOARD
                                                                        MOVEMENT ROD
                 30,7

                                                                                                                153,4
                             115
TUBO                                                                                                               100,7
TUBE
                                                                                         GRONDA
115x115                                                                                  GUTTER
          115

                                                                                                           55
                        85

TRAVE
BEAM
           160
ACCESSORI / ACCESSORIES
TAPPI PER LAMELLA
CAPS FOR SLATS

PERNI DI ROTAZIONE
(INTERASSE 1 7 0 )
ROTATION PINS
CENTRE DISTANCE 1 7 0 )

KIT TRAVE CENTRALE              KIT                            KIT PIEDE AGGIUNTIVO
CENTRAL BEAM KIT                MODULO SINGOLO                 SINGLE BOTTOM KIT
                                SINGLE MODULE KIT

                                                      MOTORE
KIT VITE TCE M6 X1 4                                  MOTOR
+ DADO (INOX A2 )
CYLINDRICAL HEX SOCKET HEAD
SCREW KIT
M6 X1 4 + NUT (STAINLESS A2 )

RILEVATORE PIOGGIA              SENSORE                        CENTRALINA
RISCALDATO                      VENTO / LUMINOSITA'            PER COMANDO
WARMED UP RAIN                  WIND / LIGHT SENSOR            MOTORIZZATO
DETECTOR                                                       MOTOR CONTROL UNIT

                                SENSORE VENTO
                                WIND SENSOR
SISTEMA PER STRUTTURE ESISTENTI / LEAN-TO SYSTEM FOR EXISTING STRUCTURES

                                                    LAMELLA

                                                    SLAT
                                           TELAIO
                                                                                           COMPENSATORE
                                           FRAME
                                                                                           JOINT
                                                                                                                 GRONDAIA FISSA
                                                                                                                 LARGA
                                                                                                                 WIDE FIXED
                                                                                                                 GUTTER

             APERTURA MAX LAMELLE 1 40 °
                MAX SLAT OPENING 1 4 0 °
                                                                                                                TELAIO
              170        170         170                                                                        FRAME

                                                                           CARTELLINA DI
                                                                           COPERTURA
                                                                           COVERING
                                                                           BOARD
                                                                                                    TAPPI PER
                                                                                                     LAMELLA
                                                                                                    SLAT CAPS

                                                           PERNI DI                                KIT VITE TCE
                                                           ROTAZIONE                               M6 X14 + DADO
                                                           PER LAMELLA                             (INOX A2 )
                                                           ROTATION                                M6 X1 4 HEX SOCKET
                                                           PINS FOR SLAT                           HEAD SCREW KIT +
                                                                                                   NUT (STAINLESS A2 )
SISTEMA AUTOPORTANTE / FREESTANDING SYSTEM

                                             LAMELLA
                                             SLAT
                                                                          COMPENSATORE         GRONDAIA FISSA
                                                                           JOINT                FIXED GUTTER

                                                                                                               TRAVE
                                                                                                                BEAM

                                                                                                          CARTELLINA DI
            APERTURA MAX LAMELLE 1 40 °                                                                     COPERTURA
               MAX SLAT OPENING 1 4 0 °
                                                                                                        COVERING BOARD

            170          170         170

                                                                       TUBO
                                                                       TUBE

 0.3000

                                              ASTA DI                              TAPPI PER
                                              MOVIMENTAZIONE                       LAMELLA
                                              MOVEMENT                             SLAT CAPS
                                              ROD
                                                                                           KIT VITE TCE
                                                                                           M6 X1 4 + DADO (INOX A2 )
                                                                                           M6 X1 4 HEX SOCKET
                                                                                           HEAD SCREW KIT + NUT
                                                                                           (STAINLESS A2 )

                                                          PERNI DI ROTAZIONE
                                                          PER LAMELLA
                                                       ROTATION PINS FOR SLAT
Chiusure laterali / Side closures
TENDA ZIP/ ZIP CURTAIN
     Tenda motorizzata a scorrimento verticale, semplice nelle forme e
IT
     resistente alle sollecitazioni esterne.

EN Motorized awning with vertical sliding, simple in shape and resistant to
     external stress.

IT     Cassonetto                                  Guida standard                       Guida plus                                   Terminale
                                        Tenda con telo oscurante/semioscurante         Tenda con telo Cristal

EN       Dumpstar                                  Standard guide                        Plus guide                                  Terminal
                                           Darkening curtain/semidarkening sheet       Cristal sheet curtain

SPECIFICHE TECNICHE / TECHNICAL SPECIFICATIONS

IT   › Cassonetto autoportante da 125mm                                                      EN     › 125 mm self-standig inspectionable box
     › Profilo terminale a scomparsa                                                                › Retractable terminal profile
     › Sistema telescopico di avvolgimento con cuscinetti                                           › Telescopic winding s ystem with bearings
     › Cerniere saldate ai bordi che impediscono la fuoriuscita del telo dalle guide                › Zip sheet tensioning system
LA TENDA ZIP È DISPONIBILE CON / ZIP CURTAIN AVAILABLE WITH:
IT   ›   Telo Cristal                                    EN    ›   Cristal sheet
     ›   Telo Semi-oscurante PVC                               ›   Semi-Darkening PVC sheet
     ›   Telo Semi-oscurante POLI                              ›   Semi-Darkening POLY sheet
     ›   Telo Oscurante POLI                                   ›   Darkening POLY sheet
CRISTAL                                                CRISTAL

      Telo composto da film trasparente a                     Sheet made of transparent film
      base di resina PVC con bassa riconduci-                 based
                                                             PVC     on resin with low thermal
                                                                  (58%)
IT                                                      EN
      bilità termica resisente ai raggi UV.                   traceability resistant to uv rays

      SPESSORE: 0.65 mm                                       THICKNESS: 0.65 mm

      SEMI-OSCURANTE PVC                                     SEMI-DARKENING PVC

      Telo composto da fibra di vetro                         Sheet made of fiberglass (42%)
 IT
      (42%) e PVC (58%)                                       and pvc (58%)
                                                        EN

       SPESSORE: 0.78 ± 5% mm                                 THICKNESS: 0.78

      SEMI-OSCURANTE POLI                                    SEMI-DARKENING POLY

      Telo composto da poliestere                             Sheet made of PVC coated polyester
IT    spalmato PVC                                      EN

      SPESSORE: 0.45 mm                                       THICKNESS: 0.45 mm

      OSCURANTE POLI                                         DARKENING POLY
       Telo composto da ordito e trama in poliestere         Sheet made of warp and weft in 1100 Dtex
       1100 Dtex. Finissaggio lato esterno laccato           polyester. Exterior finish matt lacquered with
 IT    opaco con vernice PU- Finissaggio lato interno   EN
                                                             PU paint. Internal finishing in embossed matt
       opaco goffrato                                        lacquer

       SPESSORE: 0.68 mm                                     THICKNESS: 0.68 mm
TELO SEMI-OSCURANTE PVC / SEMI-DARKENING PVC SHEET

SA0110      SA0707       SA1001      SA2020        SA0720

SA0202       SA0207      SA0102       SA0130       SA02 1 0

SA0210      SA3030       SA0101       SA1010       SA3001
TELO SEMI-OSCURANTE POLI / SEMI-DARKENING POLY

    2044       2175        2171       2065

    2051       2048       50265       2047
TELO OSCURANTE POLI / DARKENING POLY

                  -

877         819         815         632

444         272         112         878
FATTORI TERMICI E OTTICI/THERMAL AND OPTICAL FACTORS

TELO SEMI-OSCURANTE PVC/ PVC SEMI-DARKENING SHEET
                                                       LEGENDA                                          LEGEND
Colore/Color    Ts/St %   Rs/Sr %   As/Sa %   Tv/Lt%   Ts - Trasmissione solare                         St - Solar transmission
 SA0202           22        66        11        23     Questo fattore indica il quantitativo di         This factor indicates the amount of solar
 SA0207           13        50        37        11     energia solare trasmesso attraverso il           energy transmitted through the fabric. A
                                                       tessuto. Una piccola percentuale indica          small percentage indicates a good reduc-
 SA0102           11        41        48         9     una buona riduzione dell'energia solare.         tion in solar energy.
 SA0201           14        39        47        11     RS - Riflessione Solare                          Sr - Solar Reflection
                                                       Questo fattore indica la proporzione dei         This factor indicates the proportion of the
 SA0101            5        16        79         4
                                                       raggi riflessi       dal tessuto.      Un'alta   rays reflected by the fabric. A highpercent-
 SA0110            5        22        73         5     percentuale indica una buona riduzione           age indicates a good reduction of solar
 SA0707           14        36        50        12     dell'energia solare da parte del tessuto.        energy by the fabric.
                                                       AS - Assorbimento Solare                         Sa - Solar Absorption
 SA1001           11        32        57         8
                                                       Questo fattore indica il quantitativo dei        This factor indicates the amount of
 SA1010            9        37        54         7     raggi solari che il tessuto è in grado di        sunlight that the fabric is able to absorb. A
 SA0210           16        50        34        15     assorbire.     Una bassa          percentuale    low percentage indicates that the tissue
                                                       indica che il tessuto assorbe un piccolo         absorbs a small amount of solar energy.
 SA2020           21        48        31        19     quantitativo di energia solare.                  Lt - Light transmissions
 SA0720           17        45        38        15     TV - Trasmissioni della luce                     This factor indicates the amount of lightra-
 SA0130            7        12        81         7     Questo fattore indica la quantità di luce        diated through the fabric on a spectrum
                                                       irradiata attraverso il tessuto su uno           ranging from 380 to 780 nm (nano-meters),
 SA3001            6        14        80         5     spettro che va da 380 a 780 nm                   called the visible spectrum.
 SA3030            4         5        91         4     (nano-metri), chiamato spettro visibile.

TELO OSCURANTE POLI / DARKENING POLY SHEET             TELO SEMI-OSCURANTE POLI / SEMI-DARKENING POLY SHEET

 Colore/Color   Ts/St %   Rs/Sr %   As/Sa %   Tv/Lt%   Colore/Color    Ts/St %       Rs/Sr %       As/Sa %      Tv/Lt%
    112            0        72        28         0       2044            20            70            10           19
    272            0        63        37         0       2175            19            64            17           16
    444            0        20        80         0       2171             8            43            49            6
    632            0        33        67         0       2051            10            50            40           10
    819            0        34        66         0       2048             8            46            46            8
    878            0        38        62         0      50265             9            49            42            6
    877            0        37        63         0      50272            12            56            32            9
    815            0        51        49         0       2047             5             8            87            5
                                                         2065            10            46            44            7
Facile, pratica, utile!

                                                Easy, practical, useful

Vetrata ad impacchettamento / folding glazing
VETRATA AD IMPACCHETTAMENTO/ FOLDING GLAZING
        La vetrata ad impacchettamento è composta da pannelli in vetro temperato, scorrevoli e ribaltabili privi di giunzioni. I pannelli assicurano la massima
 IT     protezione dagli agenti atmosferici. Il sistema di scivolamento delle ante consente l'apertura dei pannelli sia verso l'esterno che verso l'interno.

        The folding glazing is made by tempered glass panels, sliding and folding without junction. The panels ensure maximum protection from the elements.
EN      Thanks to the innovative system of sliding doors, the model the opening of the panels both toward inside that towards outside.

 IT     Profilo superiore con compensazione in altezza                                    IT     Sistema integrato di apertura - chiusura
EN      Upper profile with height compensation                                            EN     Integrated system of opening - closure

 IT     Profilo inferiore incassato a pavimento                                           IT     Opzione di apertura di circa 200mm per arieggiare l'ambiente
EN      Recessed lower profile On the floor                                               EN     Opening option of approx 200mm to ventilate the ambience

 IT     Anello di apertura                                                                IT     Serratura
EN      Opening ring                                                                      EN     Locking

        SPECIFICHE TECNICHE / TECHNICAL SPECIFICATIONS
 IT › Profili in alluminio estruso anodizzato e verniciato                                   EN › Extruded aluminium profi le anodized and painted
    › Viteria in acciaio inossidabile                                                            › Screws in stainless steel
      › Vetri temperati da 10 mm                                                                 › Tempered 10 mm glasses
      › Prodotto garantito per 5000 cicli di apertura e chiusura (5 anni)                        › Product guaranteed to have 5000 cycles of opening and closure (5 years)
      › Larghezza ante: da min. 600mm a max. 800mm (in funzione della larghezza)                 › Doors width: from min. 600mm to max. 800mm (in base of its width)
      › Resistenza al vento: Classe 5                                                            › Wind resistance: Class 5
Sezioni della vetrata / Glazing sections
IT   1. Superiore: Guida superiore e profilo di compensazione Inferiore: profilo incassato nel suolo.
     2. Superiore: Guida superiore e profi lo di compensazione Inferiore: profilo standard.

     1.Top : upper guide and compensation profile. Lower: profile embedded in the floor
EN 2. Top : upper guide and compensation profile Lower: standard profile

     Configurazioni Disponibili / Available Configurations

     Ingombro pannelli / Panel size

                                                                                          n° pannelli X (mm)   n° pannelli X (mm)
                                                                                              1          42        10        339
                                                                                              2          75        11        372
                                                                                              3         108        12        405
                                                                                              4         141        13        438
                                                                                              5         174        14        471
                                                                                              6         207        15        504
                                                                                              7         240        16        537
                                                                                              8         273        17        570
                                                                                              9         306        18        603
VETRATA SCORREVOLE / SLIDING GLAZING
IT Vetrata con sistema di chiusura con ante in cristallo temperato che scorrono parallelamente e possono essere impacchettate sia a destra che a sinistra della guida.
EN Glazing with closure system with tempered glass doors that run in parallel and can be packed on both right and left of the guide.

IT Guida superiore                                                         IT       Guida a pavimento                                                                IT Pomello
EN Upper guide                                                             EN            Floor guide                                                                 EN   Knob

IT Serratura con chiave                                     IT Bloccaggio automatico posizionato alle estremità laterali                           IT Sovrapposizione delle ante
EN Lock with key                                            EN     Automatic locking positioned at the lateral ends                                EN       Doors Overlapping

     SPECIFICHE TECNICHE / TECHNICAL SPECIFICATIONS
      IT                                                                                                  EN
    › Gancio di traino integrato che permette l'apertura e la chiusura automatica della ante            › Integrated tow hook that allows the opening and closing of the doors
    › Ferramenta inossidabile di facile manutenzione e nascosta nel profilo                             › Easy-care stainless steel hardware hidden in the profile
    › Cuscinetti a sfere di facile manutenzione                                                         › Easy-care ball bearings
    › Guida inferiore di basso spessore                                                                 › Low thickness lower guide
    › Guida con sistema di scarico acqua all'esterno                                                    › Guide with system of water drain outside
    › Vetri temperati spessore 10mm                                                                     › Tempered glass 10mm thick
    › Le ante si sovrappongono verticalmente di 16 mm                                                   › The doors overlap vertically by 16 mm
    › Larghezza ante: da min. 850mm a max 1100mm                                                        › Doors width: from min. 850mm to max 1100mm
Configurazioni Disponibili / Available Configurations

                                                                                                                          Pergola bioclimatica / Bioclimatic pergola
                                                                                         Apertura later ale max. 5 ante
 IT Apertura later ale max. 5 ante Apertura centrale max. 10 ante
EN Side opening max. 5 leafs        Central opening max. 10 leafs                        Side opening max. 5 leafs

 IT La vetrata è progetta utilizzando il minore numero di ante possibili
EN The glazing is projected to use the minimum number of leafs

                                                        Altezza ante   Larghezza ma s-
                                                            (mm)       sima ante (mm)

                                                            2900             96

                                                            2800            100

                                                            2700            103

                                                            2600            107

                                                            2500            110